Who's Who¶
Core Members¶
Sergei Gepshtein, PhD - Founding director of the USC Center for Spatial Perception & Concrete Experience
Trained in neurobiology, perceptual psychology and vision science, Sergei investigates visual perception and visually guided action from the mechanistic point of view of neuroscience and from a point of view that respects visual experience as a research focus in its own right. (The latter area of studies was born in the Gestalt movement, from which it evolved into a modern and rapidly developing research of perceptual organization.) Sergei is a scientist at the Center for Neurobiology of Vision at the Salk Institute for Biological Studies in La Jolla, California, where he studies boundaries of visual perception in the natural world and in visual media using methods of sensory psychophysics and computational neuroscience. He also directs the Collaboratory for Adaptive Sensory Technologies, which he founded at the Salk Institute in 2015.
Sergei served as a Guest Editor of the Journal of Vision; he is a member of the Editorial Board of Cognitive Processing, an International Quarterly of Cognitive Science, and an editor of Oxford Handbooks for Oxford University Press. Recipient of awards from the Swartz Foundation for Computational Neuroscience Research and the National Institutes of Natural Sciences of Japan, and recipient of grants from NIH, NSF, and the Kavli Foundation, Sergei is increasingly involved in studies of built environments and design of immersive media, as a founding member of the 5D|World Building Institute and as an inaugural recipient of the Harold Hay Award (2013) from the Academy of Neuroscience for Architecture, whose Board of Directors he joined in 2016.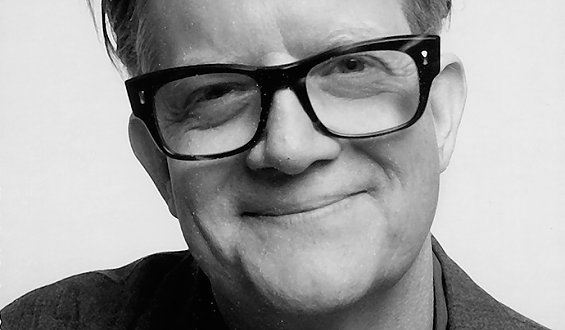 Alex McDowell, RDI - Director of the USC World Building Institute
Professor of Practice at the University of Southern California's School of Cinematic Arts. As Director of the USC World Building Media Lab (WbML) at the School, Alex and his interdisciplinary students collaborate to build immersive worlds for storytelling across multiple platforms. The WbML was awarded the prestigious Future Voice Award at the 2014 Interaction Awards in Amsterdam. He also leads the USC World Building Institute, a renowned multi-disciplinary knowledge space. He is recipient from George Lucas of the William Cameron Menzies endowed chair in Production Design.
An award-winning designer and storyteller working at the intersection of emergent technologies and experiential media, Alex has 30 years experience as a production designer of feature films, working with directors David Fincher, Steven Spielberg, Terry Gilliam, and Anthony Minghella among others. As Visiting Artist to the MIT Media Lab (2005-2010) he designed the robot opera "Death and the Powers." He is a Getty Research Institute scholar, and a member of the AMPAS SciTech Council. In 2006, he was awarded Royal Designer for Industry by the UK's Royal Society of Arts, and in 2013 UK Designers & Art Directors President's Award.
Geoffrey Long, SM - Creative Director of the USC World Building Media Lab
Storyteller, scholar, and designer exploring the future of storytelling and where story worlds and technology co-evolve. Having been the Creative Director and a Research Fellow for the Annenberg Innovation Lab at the University of Southern California, the Lead Narrative Producer for Microsoft Studios, in a think tank under Microsoft's Chief Experience Officer and Chief Software Architect, a researcher and Communications Director for the Singapore-MIT GAMBIT Game Lab at the Massachusetts Institute of Technology, a magazine editor and a film producer, Geoffrey now serves as the Creative Director for the World Building Media Lab in USC's School of Cinematic Arts. In his various lives, he has consulted for such clients as BET, FOX, HBO, MTV, Warner Bros., Turner Broadcasting, Havas, GSD&M, Cisco, DirecTV, IBM, the Los Angeles Times, the City of Los Angeles, and Walt Disney Imagineering.
Geoffrey's writing has appeared in the extended edition of Spreadable Media by Henry Jenkins, Joshua Green and Sam Ford; The Comics Journal's Guttergeek; and The Journal of Transformative Works and Cultures, and he serves as co-editor of the Playful Thinking book series from MIT Press with William Uricchio and Jesper Juul. His white paper How to Ride a Lion: A Call for a Higher Transmedia Criticism was published in 2011, and his Master's thesis, Transmedia Storytelling: Business, Aesthetics and Production at the Jim Henson Company, was released in 2007. Geoffrey has served on the editorial boards of Eludamos and The Journal for Transformative Works and Cultures, and he frequently speaks at such conferences as SXSW, CES, the Game Developers Conference, the LA Film Festival, Storyworld, Transmedia Hollywood, Futures of Entertainment, SIGGRAPH, SCMS, and FuturePlay.